We all know that lights are essential when you're riding between dusk and dawn. However, most cyclists, even the more experienced, don't know the importance of riding with a daylight visible light – day or night, rain or shine. At Village Cycle Center, the Bontrager Flare R is our must-have daylight visible light.
The Flare R maximizes your visibility with bursts of 65 Lumens (that's brighter than the average car taillight!), 270 degrees of illumination, and optimized flash patterns. This little powerhouse of a rear light has two daytime visibility modes and two night modes, making it the only taillight you'll need to carry. Its rechargeable battery also lasts up to 23 hours, so you can literally ride all day and all night if you're so inclined.
We think that it's pretty clear why the Flare R is our go-to rear light, but here are a few more facts that you should know when considering the importance of a daylight visibility rear light:
• 80% of cycling accidents occur during the day
• 40% of US cycling fatalities result from hit-from-behind accidents
• Studies show riders overestimate their visibility by 700%
Shop Bontrager Flare R Tail Light or Bontrager's line of lighting accessories.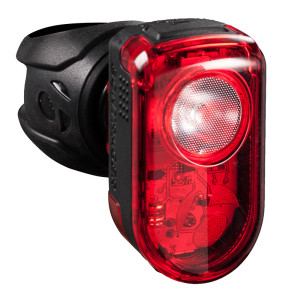 65 Lumens provide visibility from over 2km day or night
–
Be seen with balanced optics designed for 270 degree visibility near and far
–
Two daytime visibility modes, two night modes
–
Run time: Day Steady 4.25hrs, night steady 21hrs, day flash 5.75hrs, night flash 23hrs
–
Battery save mode
Shop the Bontrager Flare R Taillight online or stop in the shop to see it in person.