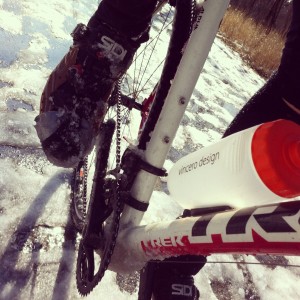 The cold weather is upon us. For many, the decision has been made to hang up the bike (or dump it in storage) for the winter. For the rest, they are faced with a decision about what to ride through the biting cold, and the ice-slicked streets of Chicago's winter. Think about it: What would you do?… Stick with your carbon road bike and pray that you stay rubber side down? Revive some old, indestructible mountain bike relic from the early 90s?…or maybe you have some scheme to create a clever "Frankenbike" build that will cut your maintenance costs, not to mention serve as a conversation starter at bike shops that harbor you while you get the feeling back in your fingertips.
At first, winter cycling sounds crazy but it is a great way to stay moving through those flabby winter months. A bike can also be quite a bit more reliable than a car when the cold takes to sapping batteries and freezing windshields. It is important, however, to keep in mind that winter riding is more difficult and much messier than fair weather rides of the spring summer and fall so you may want to take a few things into consideration.
When faced with the question of what kind of bike to ride over the winter the key concern (aside from staying warm) is traction: A lot of people come into bike shops to tune up their old standby mountain bikes for a rough winter riding season. These people are glad to give up the sleek efficiency of hybrid or road tires for the reliable traction of a fat knobby tire if it means staying on two wheels on the slippery streets. You may even see a couple fatbikes, like the Trek Farley,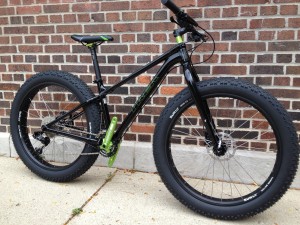 with their enormous tires plodding along the lakefront through the snow! While it is true that mountain bikes are generally a reliable source of traction, nothing beats a studded tire: Thick, rugged rubber tires laced with tiny metal studs. Not only will you have the best traction out there but you can also find studded tires for Mountain Bikes, Hybrids and Cyclocross bikes. Studded tires are a great solution particularly if you don't want to give up your favorite ride in the winter.
If you are looking for a new bike to handle the winter months you may be tempted to go for something simple, robust and inexpensive but before you dump some money into a vintage cruiser, keep in mind that a bike that is made for the commute may suit you better.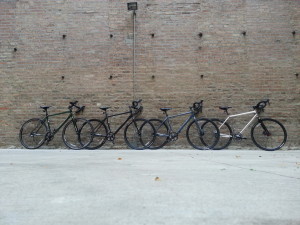 Trek has a number of hybrid bike options, like the FX and DS series, that will be rack and fender compatible and come with generous tire clearance so you can run the tires you want.
Corrosion from salt and the increased potential of crash damage means that many people are drawn to single speed drivetrains to avoid winter maintenance headaches, but anybody who bikes in Chicago knows how bad the wind can be and might not want to give up gears. Keeping your bike clean, regular maintenance and wet weather lubes will keep any bike rolling through the winter. If you are scared off by meticulous maintenance, there are bikes that can help you stay on the bike without many added headaches. Bikes with drivetrains like a "one-by" drivetrain ( commonly 1 x 7 or 1 x 9), eliminate the front derailleur leaving the rear cassette and derailleur as the main gear selection on the bike. However, The kings of winter riding use internally geared hubs provide multispeed goodness without the need for external gears and derailleurs. The internally geared Trek Soho DLX has fenders, a rear rack and comes equipped with a belt drive. The Soho DLX, combined with studded tires, becomes an unstoppable winter machine that sacrifices nothing to get you through the snow and ice.  The new Trek Crossrip is a commuter road bike with the same accessory compatibility as the FX and DS, but comes even more winter-ready with added preventative features like internal cable routing which reduces the corrosion of cables in the cable housing due to salt exposure.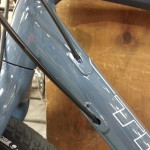 If you are reading this after closing up your bike in the garage or bike room for the long winter hibernation; Are you ready to give up the bike? There is a whole new riding experience in the winter that offers unique challenges and new opportunities to get out of the house and meet with friends. A post ride Hot Cocoa is a great reward. If you decide that you aren't ready to resign to old man winter yet, come to Village Cycle Center and let us help you get outfitted for the cold!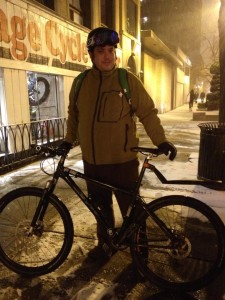 While we know a bit about riding in the winter, we do not know everything, and welcome all the tips and tricks people have learned over the years. Please feel free to share your knowledge with us and our readers and add a comment.
Ride on!