The daily bike commute is dominated by speedsters and cruisers. The Trek Zektor flies down the middle, providing the durability and robustness of a solid commuter bike, with a structure and drivetrain closer to a road bike.
Arrive at the office fast, fresh, and ready to tackle the day. Then head to River North to unwind after a productive day of work and skip the traffic. With puncture resistant tires, you can go wherever the road takes you. The Zektor is your urban machine.
The Trek Zektor is built to ride no matter the weather, allowing you to cruise the 606, rain or shine. In any and all of Chicago's wonderful weather conditions, the Zektor's disc brakes provide the best stopping power. And the bike's frame geometry is designed to give you a crisp, responsive ride.
The Zektor comes in a clean minimal design, allowing you to customize your ride to suit your needs. Racks, fenders, computers are all easy to install on the Zektor's sleek frame.
Make your commute your own with the Trek Zektor.
Trek Zektor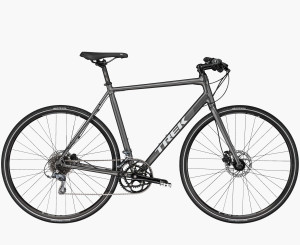 Available in Multiple Models / Sizes
Starting at $639.99 – Trek Zektor 2
Aggressive geometry to increase speed and responsiveness
700 x 32c tires for speed and traction
Hydraulic disc brakes for stopping in all conditions
2×8 and 2×9 gearing for tackling hills and flats