Electra's Townie is best describe as an easy chair on wheels: Incorporating Electra's patented Flat Foot Technology, the Townie has become the go-to bike for cyclists who refuse to give up comfort for fitness and mobility. As popular as the Townie is these days many might still have some questions as to what Flat Foot Technology(FFT) Is? why it is so great? and what Electra models offer FFT?
Flat Foot Technology is Electra's answer to many people's objections to a proper saddle height (which provides ideal leg extension to reduce strain on joints and muscles): Many riders just want to put their feet on the ground while in the saddle. FFT allows optimal rider leg extension, while maintaining rider confidence and comfort, by positioning the pedals to a position in front of the rider instead of directly underneath their seat.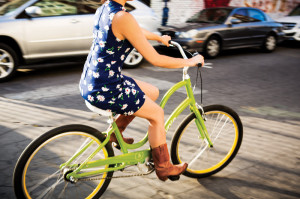 With this technology Electra has been able to emphasize rider comfort and stability without sacrificing the science that keeps riders pain free and efficient on a bike. On the Townie, FFT is coupled with a comfy saddle and an upright riding position to make a bike that is comfortable as can be. Riders do not feel the same strains and pressures they may experience on traditional bikes. While not built for speed, FFT bikes make sure you will enjoy every minute you spend on the bike.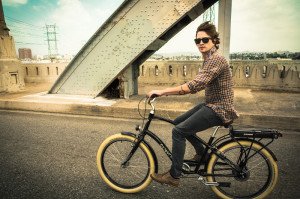 While Townie is the most popular bike to feature FFT, Electra also makes their Cruiser and Amsterdam series of bikes with the same Flat Foot Fit! The super-stylish Cruisers benefit from FFT by enhancing their classic styling and making fashion comfortable again. The Amsterdam series brings the practicality of Dutch city bikes to a much more comfortable place with FFT, standard fenders and a number of gearing, rack and light options to help ease you into a mobile, urban lifestyle.
Come to Village Cycle Center and check out our new Electra bikes! Have a seat on a new Flat Foot Technology Bike, like the Townie, Cruiser or Amsterdam, and feel the difference the ability to stand on your own two feet can make.
By Nic Patrie