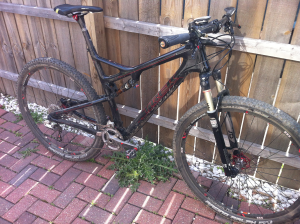 I was quite hesitant to sell my Top Fuel 9.9 SL to get this Superfly 100 SL Pro. I lost many nights of sleep pondering 29 over 26 inch wheels. I thought about cornering in technical trail, how fast does the rear wheel spin up, can I table top these big ol' wheels, how can I live without my Top Fuel??!! So many questions, and without ever even test riding a Superfly, I sold Jezebel, and ordered the Trek Superfly 100 Pro SL.
It was a beautiful day at Palos. Even thought the trails were beat down and rutted out from the monsoons of rain that had come over the last month, followed by the early season douche bags that ride them muddy, they had dried out to the perfect very fast and tacky dirt path speed way I enjoy. The first day in the woods of the season, first day in a short sleeve kit without knee or arm warmers, and new bike day, it doesn't get much better than this.
Last time I was at Palos, I was riding my old carbon rocket ship, Jezebel. What an amazing bike the Trek Top Fuel 9.9 SSL is. I start thinking, "man, I should had kept that bike.".
Oh well, lets see how the new bike is…
Well, after the first 15 minutes of riding, I forgot all about Jezebel, and was more concerned about how freaking amazing the Superfly is! Holy sh*t Batman! This bike rocks! Fast, fast, fast! It took a whole 3 turns to adjust to the wheel base, and guess what? It table tops just fine! The rear wheel does take a bit more effort to spin up, but I found if I do my starts in just a slightly different gear, it is all good. The climb setting on the Fox Float rear shock works so well, I actually found my self using it. On Jezebel the remote for the rear shock never worked, and there wasn't such a defined difference in platform that I found myself always leaving it in the stiffer of the settings. But now, I have three great settings to choose from that actually work! Add that with the sleek remote lock out for the fork, and this bike is a climbing and sprinting machine!
Something else that I am so far very impressed with is the Ergon Pro Carbon saddle. I have been using Ergon GS1 grips for a few years, but this was the first time that a non-Fizik saddle made its way onto my race rig and under my booty. And what my booty has to say is "THANK YOU!". What a superb saddle. Not only is it sleek, black, and pretty light, but it is a great ride too!
Not to be long winded, but I also need to give props to the pimp saddles I was also wearing for the first time this day, the Sidi Drako! BOOM! I have been wearing Sidi shoes for many, many moons, and this day, I found something even lighter and stiffer than my Dragons. With the wire system and Sidi's great foot lasts, these shoes truly fit like a glove. Until next time, here are some pics to look at. Keep the rubber side down, and have fun on the trails!