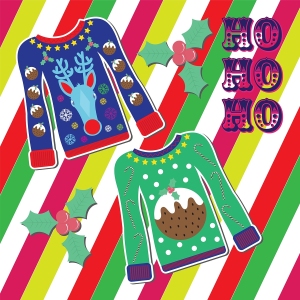 It's time for Village Cycle's annual Ugly Sweater Contest! We had so much fun doing it last year we have decided to do it again. Pull out that sweater your Aunt Bessie got you or go pick one up at a thrift store and snap a picture of youreself wearing it for a chance to win a $50 gift card from Village Cycle.
Please email your picture to us at villagesweater@gmail.com and we will upload them to a photo album on Facebook. Whomever has the most likes wins! Tag yourself and have all your friends and family go to our page and like the original image. We'll count up the likes on the original image and whomever has the most wins!
Voting closes at noon on December 31st.
Steps for winning the Ugly Sweater Contest
-Snap picture of you wearing the craziest Christmas sweater you can find or make
-Email it to villagesweater@gmail.com
-Once we've uploaded it to our Facebook tag yourself
-Have all your friends, family and coworkers go to the Village Cycle Facebook page and like the original image
-Collect the most votes by noon on December 31st to win the $50 gift card to Village Cycle