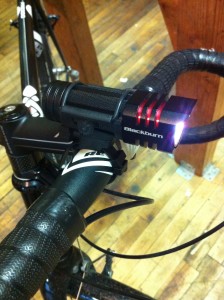 Blackburn Design – Scorch 1.0
The Blackburn Scorch 1.0's whopping 140 lumen beam will illuminate all the potholes and branches trying to trip you up when riding in the dark. The power button doubles as a battery life indicator, and this little powerhouse features high, standard, and flash modes so you can dial in just the right brightness and run time. It's powered by a high-tech, internal Lithium-Ion battery which charges through a watertight magnetic connection that plugs into a USB computer port.
• Compact, rechargeable Li-Ion headlight
• CNC machined aluminum housing
• Super-bright white CREE® XP-G LED
• 140 Lumen output
• Magnetic USB smart charger
• No tools universal clamp mounts to any handlebar
• 1hr High, 3hr std, 5hr flashing run times • LED fuel gauge/charge indicator
140 lumen of pow from the Blackburn Scorch
Blackburn Scorch has an indicator the changes from green (fully charged) to red (needs charging) to let you know when you need to charge it.
The Scorch detaches from its mount and makes a decent little flash light.
Patented power attachment passes electrical current through magnets, allowing for a compact and watertight connection.
Charges via any standard USB port.
Charges via any standard USB port.
Charges via any standard USB port.The indicator will flash green when fully charged.