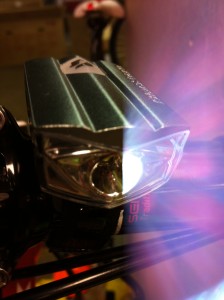 I have been a fan of the Blackburn Flea lights for awhile now, but with the addition of the Super Flea, I have become a super fan of them.
Lets us start off with the technical specs for the Blackburn Super Fleas:
Super-small – 2.20″ Lx1.30″ W x.90″ H
Super-bright White CREE® XP-G LED
Brilliant 120 Lumen output
Rechargeable Li-polymer power
Easy hookup magnetic USB smart charger, waterproof charging ports
Versatile hook-and-loop strap mounting system
LED fuel gauge/charge indicator
1 hr High, 3hr Std, 5hr flashing run times
34 grams
Ultra-bright, ultra-compact—1.30"L x .90W x 1.80"H
Collimating lens makes central appear larger than life, enhancing visibility
Compact, rechargeable LI-Ion power
Easy hookup magnetic USB smart charger, waterproof charging ports
Versatile silicone strap mounting system
Concave rear profile nests against seat posts to stay in place
LED fuel gauge/charge indicator
15hr steady, 28hr flashing run times
36 grams
So, the specs are all laid out, but what do all those numbers and terms mean? They mean this is one very bright, rechargeable, easy to use, light all smooshed into a reasonable size.
Everything I liked about the Flea, now with more power in the Super Flea!
After 3 years of using rechargeable lights, I have not purchased, used, recycled, a battery in a bike light for quite a long time. Saving me money, as well as the environment. One of my favorite side effects of riding a bike.
The front light has 3 modes, most of the time I use the flashing mode. When times are dark, and street lights are not around, the solid high beam of the Super Flea does the job of illuminating my ride just fine.
The rear also has 3 modes to choose from, I usually use the 3rd, so that I only have to push the button once on each light to turn them off. I was happy to see that the Fleas and Super Fleas have the same amount of modes, just for that reason. It may be something small, but at the end of a long, wet, cold ride, it is the little things that matter.
Upgraded mounting bracket is quite nice on the rear light. Do wish the front had the same, but the only problem I ever had with the Velcro is that it wore out after a couple years of daily use. Which really is a fair life expectancy for a Velcro strap that is replaced very cheaply. The amount of money I have saved in batteries in far greater than the $.99 part.
Still rechargeable via USB, but now with a sweet little rubber strap to hold the light more securely to the charger, you can even charge it upside down.
Super Flea front light is super bright!
Lots of power in quite a small package.
Not too bulky.
So bright my tail is on fire!
New bracket holds the Super Flea rear on tight!
The light is even visible from the side.