What is Venus de Miles?
Venus de Miles is a lot of things – Northern Illinois' first all-women's road ride, a celebration of sisterhood, support for Greenhouse Scholars, and crazy fun – but one thing it's not is a race. So, don't be afraid to walk your bike up that hill, and, most importantly, enjoy yourself. Join us Sunday, July 28th 2013, for our second year and put your pedal to the mettle.
Register today and enter in the discount code "venexp13" for $10 off of registration. Feel free to share the code with your Club members. After all, where else can you find gourmet food on the course and off, complimentary manicures, pedicures, facials, massage, spirits, wine bar, and craft beer after a long ride?
View our inspiring video from last years' event by WendyCity Productions here.
Can't ride but want to volunteer? Venus needs over 100 volunteers to make the day happen, and, we're always looking for a few good men to join our Men in Drag team, which offers mechanical support to our ladies on-course (not that we need it). Interested in learning more about our event? Email teresa@venusdemiles.com with general questions or cglenn@greenhousescholars.org to learn more about volunteer opportunities.
You can expect to see us from Village Cycle Center out at the ride providing mechanical and motivational support.
Last year, Anthony and Brandon were out next to the ladies from Luna. It was a great match.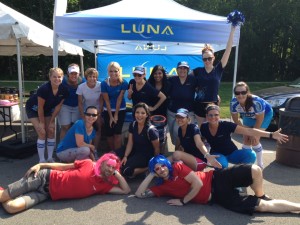 COST FOR ALL COURSES
→ $79 On or before 4/1*
→ $89 On or before 7/1*
→ $99 On or before 7/21*
→ $129 The Day Of The Ride*
To register for the ride, you can do so here. Use the code "venexp13" to save $10 on your registration.
Or, you could win a set of entries….
Village Cycle Center and Venus de Miles will be giving away a set of entries to the 2013 Venus de Miles ride, along with t-shirts, water bottles, and Luna product!
How do you win this amazing package of goodies you ask?
Check out our Venus de Miles contest here.
Exactly what you could win:
2 Ride entries (fundraising not required – valued at $164 each)
2 Venus de Miles Tee (valued at $20 each)
2 Venus de Miles Water Bottle (valued at $5 each)
2 LUNA Product (valued at $20 each)
Total package per person: $209 /$418 total
http://illinois.venusdemiles.com/

Helmets are mandatory on this ride. If you do not have one, you can order from us online, and get free shipping on any order over $50. If you are not sure of your helmet size or have questions on helmets in general, you can give us a call, or stop by our store.
A few other things you may want for your ride are: