Trek Travel – Cycling Vacations of a Lifetime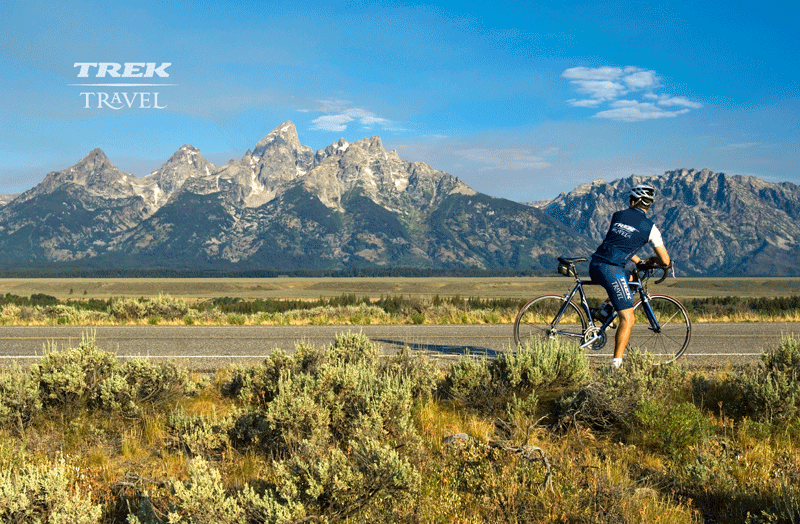 Trek Travel offers endless options for cycling vacation packages regardless of your cycling style. Explore every corner of the globe with a wide variety of supplemental activities including hiking, shopping, wine tasting, kayaking, cooking classes, cultural tours, race access and much more. With bike trips ranging from two days to two weeks and varying in cost from our no frills ride camps to our world-class luxury cycling trips, there's something to suit every type of active traveler and their pocketbook. Go solo or bring the whole family.
Check out the information below, or go directly to the Trek Travel website here.
When you book your trip, let them know, Catherine Wilson at Village Cycle Center sent you!
Our guides, trip designers, and crew in the home office are all about you from the moment you contact us. We share a passion for life and adventure, and our biggest goal is to take uncompromising care of you so you can focus on enjoying your dream cycling vacation. We tune into what you want sometimes before you even know and deliver WOW moments that surprise and delight. You'll feel energized and excited as each new day brings you hidden gems you might not have found on your own. We're your personal vacation concierge whose hard work and dedication comes together seamlessly for a carefree and relaxing experience you won't soon forget!
On a cycling vacation, the bike matters. Whether you are a leisure rider, stopping to take it all in, or a performance rider looking for challenging climbs and fast descents, you deserve the perfect bike. At Trek Travel we are raising the bar by offering the all-new, smooth and efficient, full carbon Trek Domane with electronic shifting technology. When Trek created the Domane, they must have had Trek Travel in mind, since it is tailor made for our trips. Designed for a stable ride and race-tested by champions, it's the perfect addition to our incomparable bike fleet complete with bikes for all types of riders. Vacation with Trek Travel and you can count on the best bikes in the industry–period.
It's the most important differentiating factor between us and our competitors—we are born of Trek Bicycles, and our connection provides you with an array of benefits that others just can't offer.
We want every day of your vacation to be a singular experience. Our expert designers and guides search the world over to curate perfectly planned options for you to choose from each day with ultimate flexibility. Enjoy the very best a region has to offer, guided solely by your preferences and whims as you expand into each day of relaxation, fun and adventure. Decide between an exhilarating morning ride along the dramatic coastline in Croatia, or sleep in and ease into your day with a rejuvenating massage and spa treatment. Wander medieval villages in search of fragrant soaps or soft silk scarves at the bustling local markets of Provence. Take an afternoon siesta in the warm California sun before a sunset feast paired with the perfect local Pinot Noir. Feel the rush of the peloton blow by inches in front of you as you see champions made and crushed firsthand at the world's greatest cyclingraces. It's your vacation to revel in, one day at a time-you decide how to experience it.
At Trek Travel, it is not enough for you to enjoy a carefree and perfectly planned vacation in a place you've always dreamed of. Our mission is to give you a cycling vacation you never imagined possible with one-of-a-kind WOW moments you'll never forget.
On one trip, we arranged for three lucky guests to be official wine judges at the prestigious Bordeaux Wine Festival. All the guests on their trip joined the new judges in attending the VIP wine awards luncheon for a memorable, once-in-a-lifetime experience they'll be talking about for years to come.
You never know what we'll have in store for you or what amazing surprises we'll come up with as we stop at nothing to bring you unforgettable WOW moments on your vacation of a lifetime.
It's just all about fully experiencing a region and living the good life!
Experience so much more on a bike trip than you ever imagined and take it all home with you to remember forever. Wander the lavender fields of Provence, inhaling their intoxicating aroma. Savor fresh pasta you crafted at a private cooking school in Tuscany, paired with the perfect glass of Brunello. Glide past the sparkling Mediterranean in Costa Brava with the light, salty sea breeze tickling your face. Drift off to sleep to the mesmerizing sound of the gentle raindrops in the tropical jungles of Costa Rica. Snuggle up in a bed that feels like a pile of feathers at the end of an amazing day of wonder and memories in the California Wine Country. On a Trek Travel vacation the pedal strokes are threads that bind one unique and magical sensation to another for you to experience.