Shopping for a cyclist this holiday season?! Here are ten of my favorite gift ideas that you can find in store, and online at Village Cycle Center.
1) GOtime Cycling Computer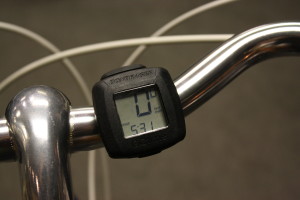 A perfect gift for any cyclist, the GOtime is a basic cycling computer that will let you know how fast and how far you've gone! It is easy to read with its large LCD screen, and is user friendly with its single button design. This is a no fuss gadget that easily mounts to any handlebar.
2) Glo and Ember Rechargeable Bike Lights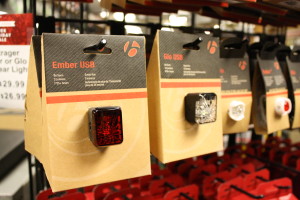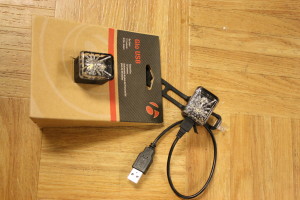 Lights are another bright gift idea. They are a must to keep you safe and an essential for the commuter. These front and rear lights by Bontrager are rechargeable with a micro USB port, no batteries needed! The LED lights can run in steady or flashing mode, can be seen from 2000 feet away, and quickly attaches to just about any part of your bike.
3) iPhone RideCase Phone Mount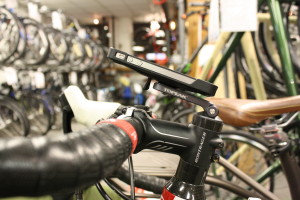 The RideCase by Topeak is a great way to mount your phone to your handlebar, stem, or stem cap! The case easily clips in and out of the mount and comes in versions for the iPhone 4, 4S, and 5. In addition, it has adjustable viewing angles and a weather-resistant shield. Check out this product video.
4) Hexus II Multitool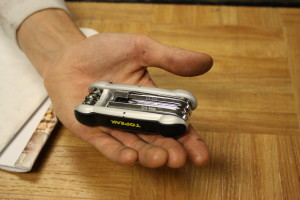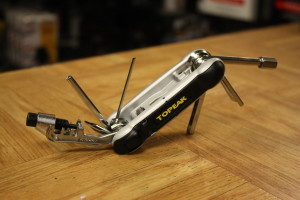 A multitool is a handy item for making minor adjusts both at home or out on the trail. Its compact size makes it a perfect fit for your messenger bag or saddle pack . It is quite the life saver with 16 different tools including several allen keys, tire levers, and a chain tool!
5) Village Cycle Center Gift Card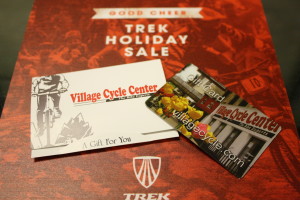 Don't know what to get your favorite cyclist? Purchase a gift card and let them pick! They can apply it towards anything in the store from accessories, to a new bike, or services for the one they have.
6) Six Corners Wristlet by Po Campo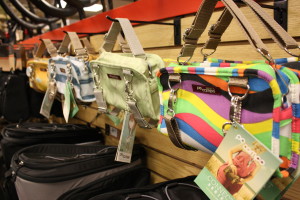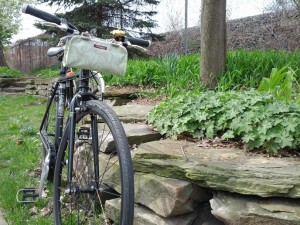 This Chicago based company has an entire line of bags that look great on and off the bike. The Six Corners is a two strap, clip on bag, that is perfect for putting on the handlebars of your bike or stroller. It also doubles as a fashionable wristlet!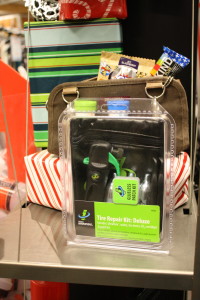 This fun little kit from Genuine Innovations comes with everything you need to change a flat tire. It includes their Ultraflate trigger controlled inflator, C02 cartridges for quick inflation, tire levers, and even a patch kit to repair the inner tube. This kit is small enough to keep with you at all times and even comes with a pouch to keep it all in!
8) Sports Nutrition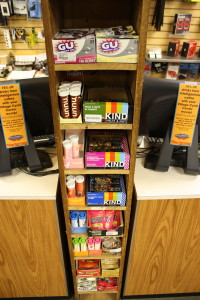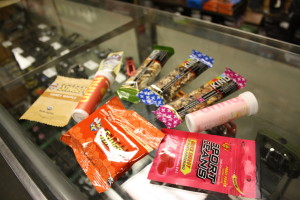 Reasonably priced and small in size, nutrition packets make the perfect stocking stuffer for your favorite endurance athlete. We have GU gels, Kind Bars, Nuun electrolyte tablets, and much more! A personal favorite are Sport Beans by Jelly Belly. They taste like candy and have all the carbohydrates, electrolytes, and vitamins to maximize your sport performance. Yum!
9) Giro Reverb Helmet
Keep the cyclist on your list safe with a new helmet! The Reverb by Giro is a fashionable retro style helmet. It has nine vents to keep you dry and comfortable and even sports a removable cycling cap-style visor to shield your eyes.
10) Abus Mini U-Lock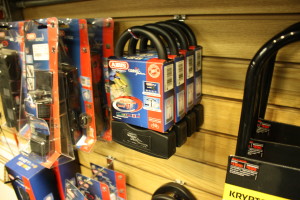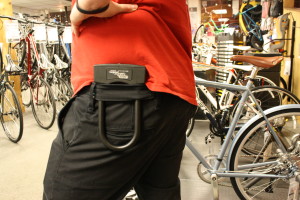 Unfortunately, Chicago is one of the worst cities in the country for bike theft. Having a good Ulock is essential. This lock stands out above the rest because not only is it specifically recommended for high theft areas, it is super lightweight at only 726 grams, and small enough to fit in a back pocket!
Want more ideas? Visit our holiday gift page.
Happy shopping!