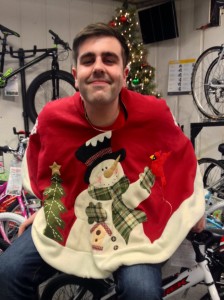 Alright everyone! Time to raid your parents closets, head to the nearest thrift shop, or pull out the elmers glue, Village Cycle Center is having an ugly sweater contest and the winner gets a $50 Village Cycle Gift Card!
We will be creating and sharing a photo album via facebook with all of the contenders. Just get the most amount of likes on your picture and win!
How it works:
– Take a picture of yourself in your most hideous holiday attire.
– Send the picture and your name via facebook message, or email it to catherine@villagecycle.com. Every evening we will upload the newest entries.
– Find your photo, tag yourself, and share it will all your friends and get them to like it!
To ensure you have made it through all of your holiday parties, we will choose the winner Monday December 30th.
In honor of the contest, the staff will be wearing their ugliest sweaters all weekend in the shop, wear yours too and get 20% off any regularly priced item this weekend only.
Here is some ugly inspiration

**Staff members will be participating for some holiday cheer and laughs, but not able to win.