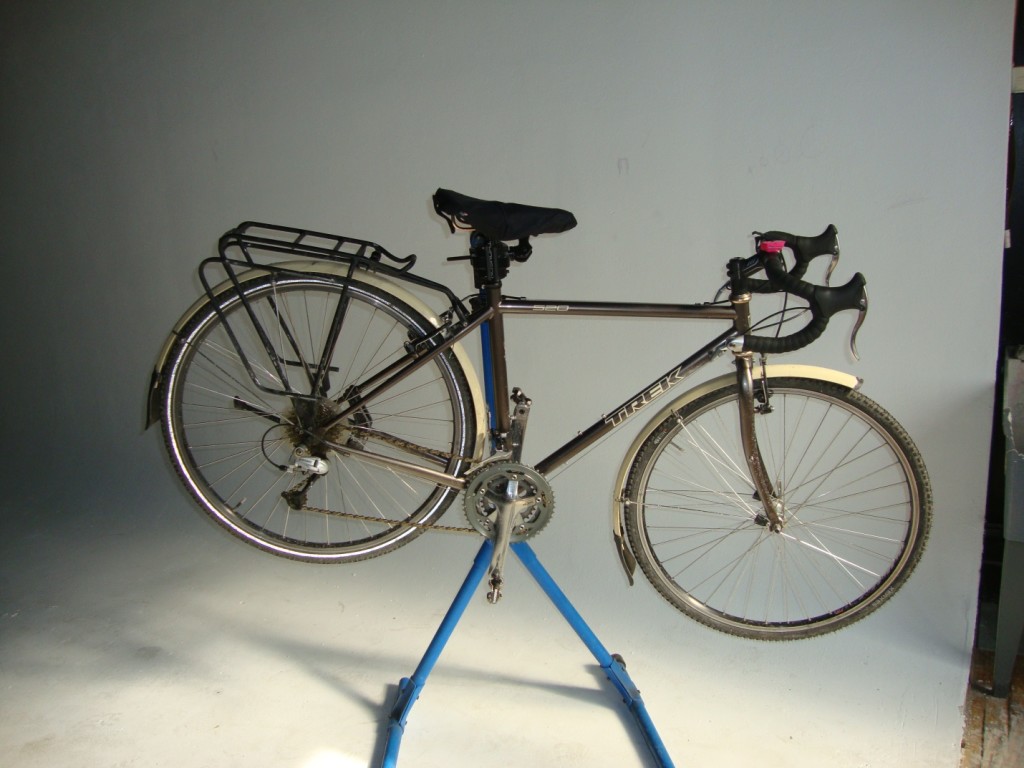 This winter has been real messy.  Today, we're going to go over the best thing you can do for you winter bike, the regular cleaning.

Today I will be cleaning a Trek 520. There's lots of salt build up here.  Cleaning this off regularly is going to keeps things rolling instead of rusting.   I know we don't all have bike stands, so go ahead and flip your rig upside down if you don't have a good spot to hang or lean your bike.
 Steps for Cleaning Your Bicycle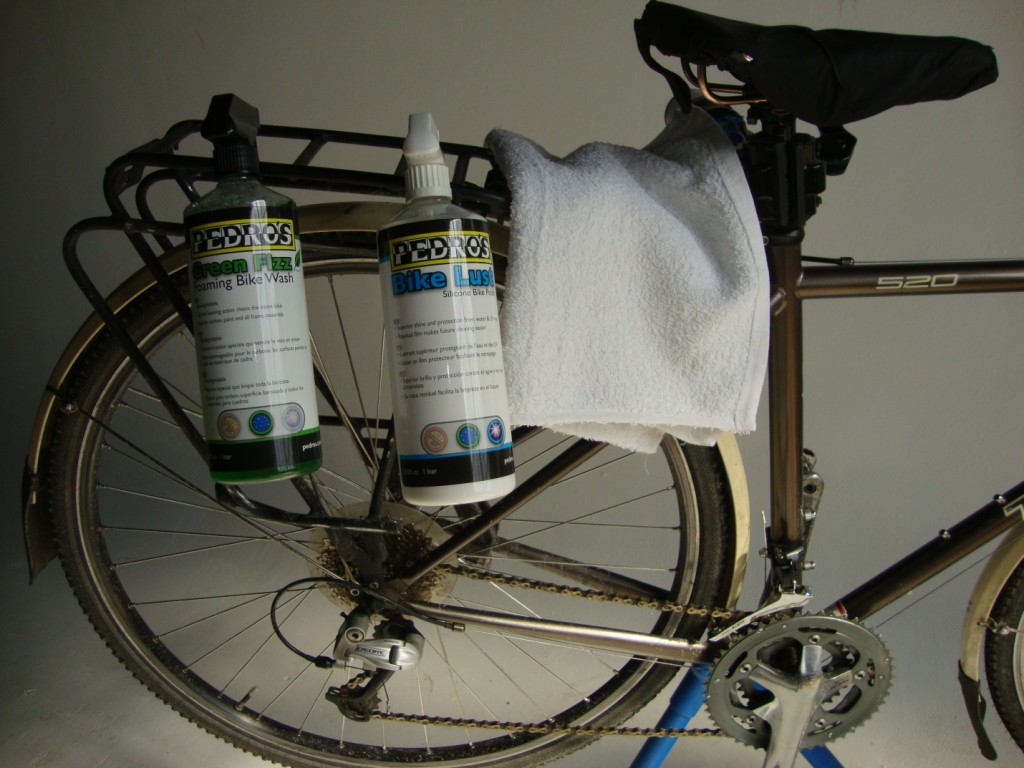 Today I'm using Pedro's Green Fizz, and Pedro's Bike Lust, both which are cleaning supplies available in our store.  Green fizz is a biodegradable cleaner that loosens built up grime, and Bike Lust is an excellent polish that makes bikes pretty and keeps them cleaner longer.  I've also got a couple of fresh rags.  Don't fret if you're a little less prepared than me, wiping your bike down with a damp rag is much better than nothing.

I like to start with the wheels.  Make sure to get the braking surface as clean as you can to help prevent rim wear, and get the spoke nipples clean too so they don't seize up from the salt.  When I'm done with the rims and spokes, I like to take the wheels off to get at hubs/cassette, and to make the rest of the frame easier to access.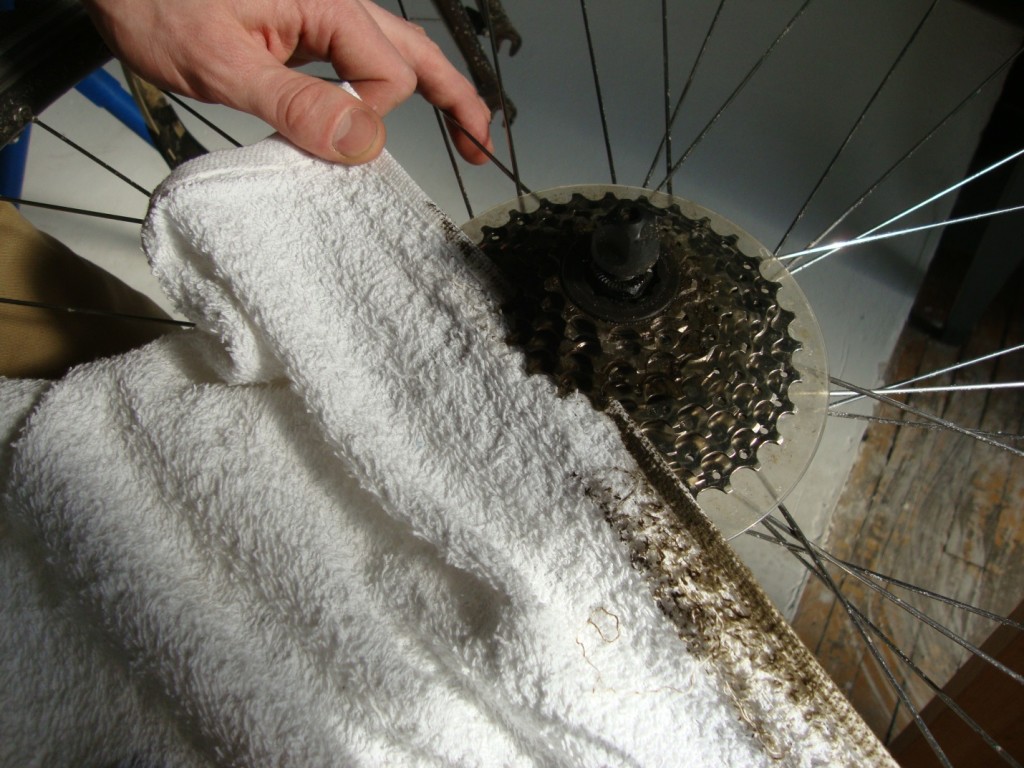 I've got a special technique to get cassettes/freewheels sparkly in no time; the ancient art of rag flossing.  Pull the edge of the rag tight and slide it back and forth in between the separate cogs to get them super-clean super-fast.

Now dive into the greasy parts.  All that grit is really accelerating the wear on your chain, cassette, and chainrings.  Cleaning these before you get serious crud build up will help prevent winter riding from turning into a costly affair. Don't forget the derailleur pulleys!

Next I'll get the main tubes clean.  I've switched to the Bike Lust for the frame, it leaves things shiny and slick, less salt will stick next time.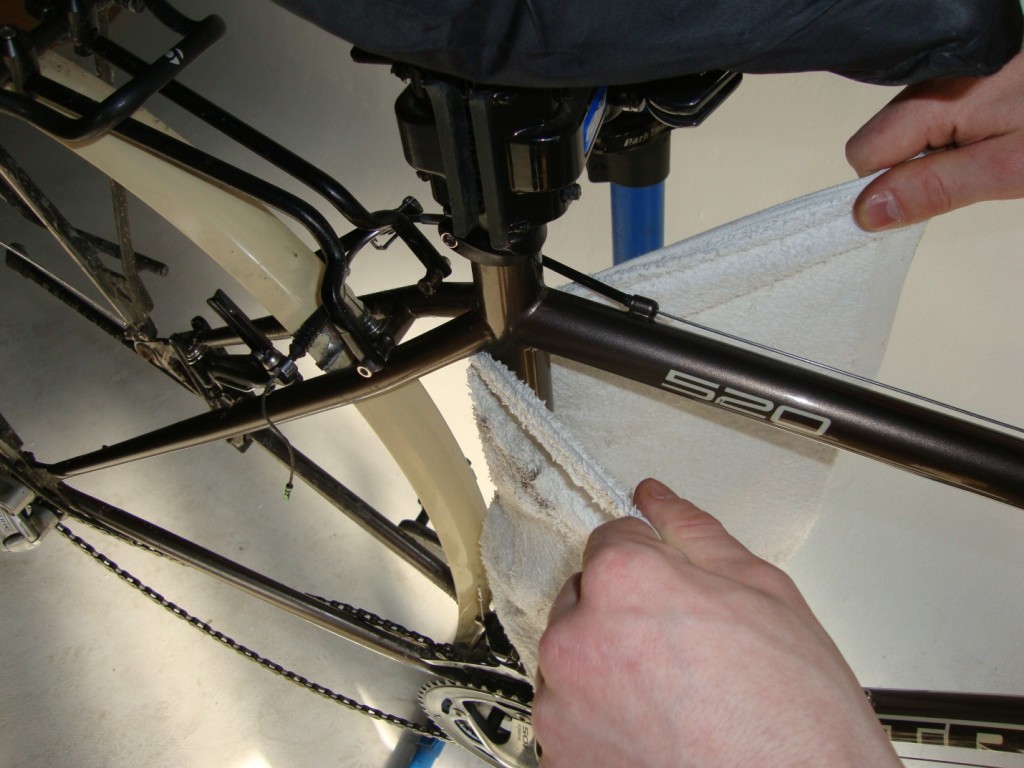 Rag floss all those crevices.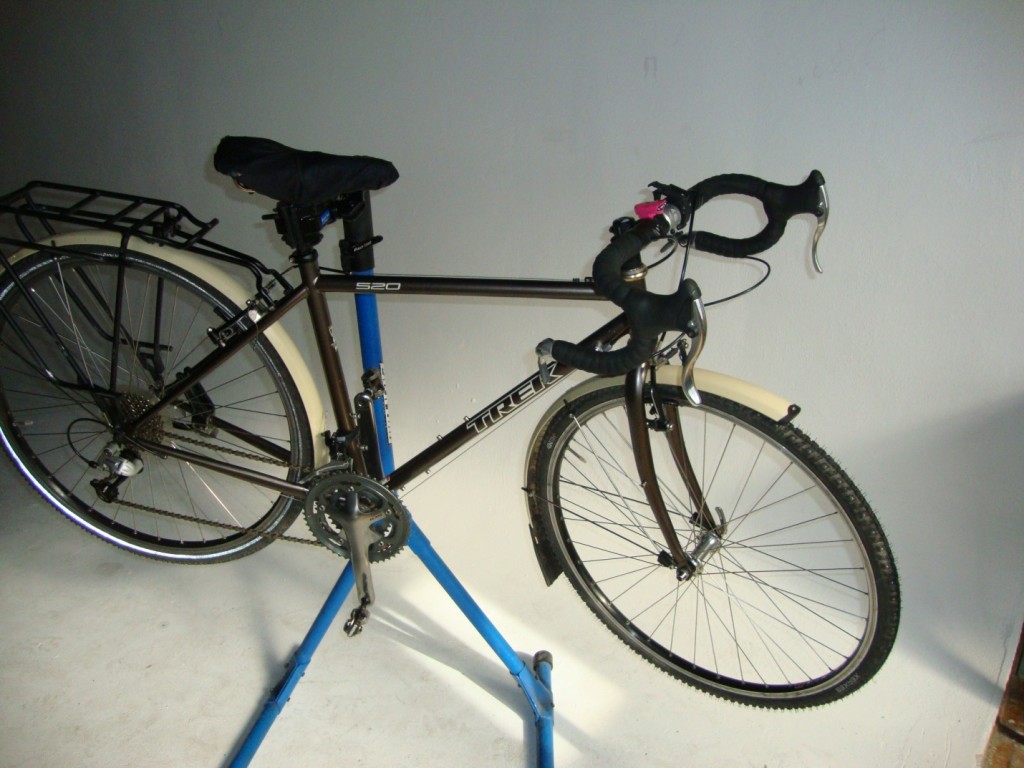 And there we have it.  To review:
-Get that drivetrain sparkly.  They're the prime wear items, so you've got lots of incentive to keep the grit build-up to a minimum.
-Make sure the rims and brake parts are clean and free from debris.  Braking surfaces will wear much quicker when covered in salt.  If you see some chunks in your brake pads, pick those out too.
-Don't overthink it, just do it.  Frequent cleaning is the key to making a winter bike last.
-Go ride.
However if you would like the experts at Village to clean your bike, we would be happy to do so. 🙂 Here is a list of our cleaning and maintenance services.