Every once in awhile a bike comes along that makes us say "WOW!" The 2016 Trek Emonda SL 6 made us say just that. This bike's carbon frame, wide bottom bracket, tapered head tube, top of the line drive train, and perfect paint job, make it the full package!
When the road tilts towards the sky, Trek's 16.3-pound Emonda SL 6 (56 cm) reacts to every pedal stoke, its OCLV carbon frame and BB90 bottom bracket launching you forward effortlessly. Then, as you get into the business of descending, the E2 head tube keeps the front end nice and stiff, and Bontrager tubeless wheels keep you carving the curves. Along the flats, a full Ultegra 11-speed drivetrain with compact cranks combines with internal cable routing to propel you to faster speeds. And on every road, the Ride-Tuned seatmast is not only lighter, it's more compliant than a traditional seatpost while the full Bonty cockpit is more than eager to add some additional miles.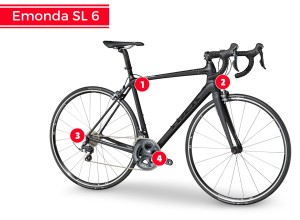 Features Defined:
1) OCLV Carbon technology
Nobody does carbon better than Trek. Only with our OCLV process can we fully integrate a complete bike system to create the lightest production bike in the world. 500 series OCLV carbon achieves a superb balance of light weight, strength and stiffness.
2) E2 Headtube
The lightweight headtube of the Emonda offers increased stiffness and improved steering precision. The result is a lighter, stiffer front end that tracks better through corners.
3) Full Shimano Ultegra Gruppo
Features a full 11 speed Ultegra drivetrain, which is the pinnacle of shifting performance.
4) BB90 Bottom Bracket
This 90mm wide bottom bracket allows for a  frame with larger tubes for increased power transfer. Plus, it is machined so that the bearings can be placed directly into the frame.  This saves weight and ensures additional pedaling efficiency while offering simplified maintenance and repair.
The Full Package
An extremely light weight frame, wide bottom bracket for added stiffness, a tapered headtube for added stability, and the ultimate drivetrain, make the Emonda SL 6 the full package in race road performance bikes. Top this with a sleek paint job and an unbelievable price, you have a clear winner in Trek Road bikes.
To see the Trek Emonda SL 6 visit us at our retail location or view it online at villagecycle.com