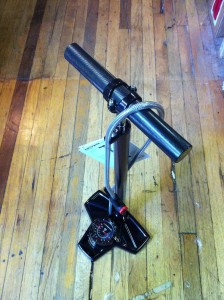 Today we got in an amazing floor pump from Blackburn. The Blackburn Airtower Shop Pump. This is the grand daddy of all Blackburn floor pumps: "Indestructible, premium high-performance floor pump that doesn't skimp on anything, anywhere—braided steel hose, massively huge 3" gauge, 220psi top end for specialty track tires and big-volume stroke for oversize mountain treads. It's the pump that blows the rest away." – Blackburn Design Aside from the sweet braided steel hose and universal head, what we noticed first was that the pump handle looked real close to having a 31.8 clamp. So, we decided to find out and replace the pump handle with some more specific handles… or bars.
First off, for the mountain bikers, we replaced the handle with an Easton EC 70 high rise carbon bar, and pow! It works! Now with better leverage and less bending over for the tall folk, you can pump even faster with the carbon bar.
Next for the roadies, we added a drop bar. Far more aero than the carbon high rise bar, you can pump away on those windy days.
You can bet when we get one of these for ourselves for use at home, they will be customized in one way or another. Be sure that if you are going to do this, file down the little nub under the clamp so you don't crack or damage your bar.
Aside from being able to change your handle to a handle bar, the Blackburn Airtower Shop floor pump has a bunch of other cool features and we took pictures of those, and couple of the pump in use too.
Here are the specs on the Blackburn Airtower Shop floor pump:
• 3-inch oversize precision gauge
• Slim, alloy AnyValve pump head grips Presta, Schrader and Dunlop valves securely
• Extra-long braided metal hose
• 335 cm3 stroke volume
• 700mm height
• 220psi max pressure
If you are ready to get your own, Village Cycle Center has them in stock with free shipping!