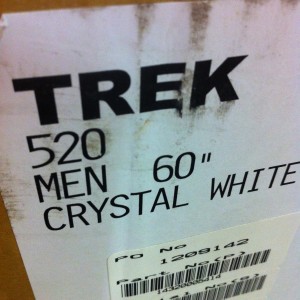 Yesterday my spiffy new 2014 Trek 520 arrived, and I wasted no time pulling from the box and building it up for its first ride. The 2014 Trek 520 comes stock with a sturdy Bontrager Backrack Deluxe rack, but to start off with, I added a set of Bontrager NCS fenders, and Schwalbe Winter Marathon studded tires. And for an added piece of mind, and savings in the pocket, I added Trek Care Plus.Winter in Chicago can be dry fast pavement one minute, and slick black ice the next. The last few winters, I have used studded tires, and after a back surgery this last July, I really don't want to risk falling on ice this year, so on they went.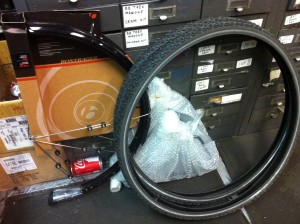 I have become a pretty big fan of the Bontrager NCS fender systems. They are easy to install, are quite sturdy. and provide good coverage. So on they went as well.
For lights I use the Blackburn Super Flea USB front and rear, as well as a Blackburn Flea USB rear for extra flash in the back section. In the front, I also run a NiteRider lighting system to light my way while the Super Flea flashes. I found on the darker nights, or paths without lights, it is nice to be able to see on coming pot holes or slush pits.
For a breakdown on the technical specs of the Trek 520, head over to the post here. To read about how the first ride went, continue….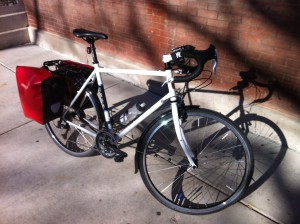 What a great riding bike! Smooth steel frame, upright, long haul geometry, easy shifting, and solid parts. While I am looking forward to putting the bike through its paces with a good ol' Chicago winter commute, I am even more excited to add a front rack, and go tour the back roads next year on it.
When I purchased my new Trek 520, I also added Trek Care Plus. Trek Care Plus is an extended warranty that also covers wear and tear. So, as I ride my bike, my chain, cassette, chain rings, and other parts wear out, Trek Care Plus will cover the replacement of the parts, including labor for 3 years! I can't wait to not have to work on my own bike!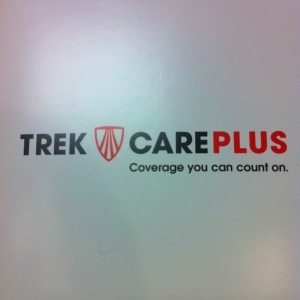 Not only can I bring my bike back over to the fine mechanics at Village Cycle Center when my new Trek 520 needs a repair, but I could also bring it to any Trek Care Plus dealer if I am out of town.
Aside from Trek Care Plus, fenders, racks, lights, and studded tires, I added some reflective chop spokes and blue flashing Tire Sparks for fun, and a bit of extra night time safety.