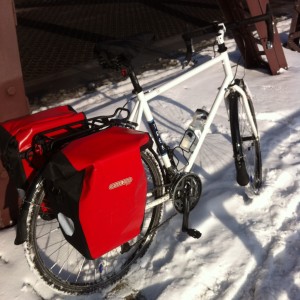 Nic asked the question a few days back, "What is your winter bike?", and my response to that is… here it is. My 2014 Trek 520 all winterized and ready to pedal through every day of this coming cold weather riding season. Some people may think I am a bit crazy, but the worse it gets, the more I want to go ride.What did I do to winterize my ride you may ask?
Here goes…
Schwalbe Marathon Winter HS 396 Studded tires – Some people love them, some do not. I happen to be one of those who do. I prefer some extra weight (works good for training for the Barry-Roubaix) on the wheels to slipping on black ice and ending up in a slush puddle, or even worse, under a car. After using studded tires for several years, I have tried many different brands and styles. For commuting I found that the Schwalbe makes my current favorite.
Brooks saddle cover – Protect your leather. Brooks makes nice saddles, that usually don't come to cheap. They also take a bit of breaking in, so keep yours in good condition all winter long with a saddle cover and applications of Brooks Proofide. While I don't have a link for the saddle cover to buy online, they are always in stock at Village Cycle Center, along with Proofide and a whole bunch of Brooks England saddles. If you don't find the Brooks Saddle you want in the store, you can always order online for free pick up, or free shipping on all orders over $50! Check out all the Brooks England Saddles we can get you here.
Bontrager NCS Fenders – I use full fenders all year 'round, but they are super useful in the winter. The streets are almost always wet with something, and in the city, that something is never anything you want on you, or your bike. Also, when commuting around others, the lower your mud flaps, the less spray you kick up at the person behind you. While mine are not as low as I would like them, they are close to the ground, but not so close I can not roll my bike around on the rear wheel without hitting the fender. (I have some tight parking sometimes.)
Lights and reflective – For winter riding, I tend to add more lights and reflective items. I have Chop Spoke on my spokes along with Tire Sparks for side lighting and reflective. To light my way, I use a Blackburn Super Flea USB for most of the nights, but when the ride goes where there is less lighting, I add on my NiteRider lighting system to ensure plenty of viability. The action in the back section is covered by a Blackburn Super Flea USB on the rack along with a Blackburn Flea USB 2.0 on the seat post. Better safe than squish like bug. I see too many people riding without lighting, and if it is hard for me to see them on a bike, people in cars covered in ice and snow surely are going to have a difficult time seeing said cyclist
Ortlieb Back Roller City Pannier – Another all year round item for me, but definitely worth mentioning. Solid attaching mechanism to hold the bags securely to your rack, and with the roll top system, completely waterproof. I just wish they had a couple pockets inside, but I can add them an use the bolts for the mounting system to hold them in place inside the bag. Another thing I dig about them, is the big ol' reflective triangles on them. While I do have life insurance, I would prefer to be the one who gets to spend it when I retire.
Seat post condom – Well, not exactly, but I am not sure what else to call it. But what I do is take a tube with about the same diameter as my seat post, cut a piece out, slide the post through it before putting it on my bike, then once the height is set, I pull the extra over the opening of the seat tube to help keep water from leaking down into the seat tube and causing corrosion from the inside out.
Wet Ride – I also change up my lube of choice for the wet, slushy days of winter. The drive train is under constant attack from water and salt, both of which do not make the metal that makes up your drive train happy. Wet Ride is a bit thicket than your usual lube, and sticks to the metal better to stay longer, and need less applications. Though the down side is, it picks up road grime faster, so keep it clean. I try to wipe my chain off at least once every other day.
Rock N' Roll Cable Magic – Lube the cables to ensure shifting and braking when cold and to prevent corrosion. Just like the drive train, your shifting and braking cables don't dig salty water either. Keep them coated with Cable Magic.
It was a good ride into work today, at a balmy 10 degrees, and looking at a 3 degree commute home. Perhaps my next post should be on what to wear. After all, there is no bad weather, only bad gear.
Keep the rubber side down, and enjoy your winter commute!
Here are a few of our previous blog post to help you out:
Wet Train Tracks and Your Bicycle
Steve E.'s Top 10 Winter Riding Don'ts
Sidi Diablo GTX – Making My Feet Happy All Winter Long
Cold & Wet Outside, Warm & Dry Inside