When Jessie found out her fiance Nick had his eyes on a Trek Speed Concept she called us to help her surprise him with the bike of his dreams. It was a success to say the least, and his reaction is priceless. A Trek bike really does make the best gift.
Here's the story:
Nick knew he was in the market for a Triathlon bike so he stopped by our shop. We walked him through all of the Trek road and triathlon bicycles, as well as figured out his correct size. He landed on the Trek Speed Concept 7.0. Before he left that evening, we wrote down the model and size on a business card.
He returned home and excitedly talked about the model and showed Jessie the business card. Jessie thought "Jackpot!" Now that she knew the exact model and size she gave us a call and placed the order the bike. Now the challenging part: how to keep it a secret, and also make sure he didn't go back to the shop and buy it himself! Luckily, Jessie the mastermind had a plan, down to the minute, and even made a trip to the shop to drop off the adorable sign "To My Ironman."
Later that week, she wanted to trick Nick into coming back into the shop so she set up a "dinner date" at a nearby restaurant. Telling Nick that they were a bit early early for their reservation, she asked if he wanted to stop in the bike shop to kill some time and show her the bike he was looking at.
When they entered, they were conveniently greeted by the sales person both Nick AND Jessie were working with. Pretending that he did not know Jessie, the sales person talked a little bit about bikes and then offered to show Nick our private studio since he would be fit, if he were to purchase the bike.
Little did he know, his new Trek Speed Concept 7.0 was waiting for him in the studio! It took him a second to notice the bike but when he did, his reaction was perfect. He loved the bike but even better you could tell how much he loved Jessie. She pulled it off, and got him the best wedding present ever.
Here's how it went…
The Trek Bike –  2015 Speed Concept 7.0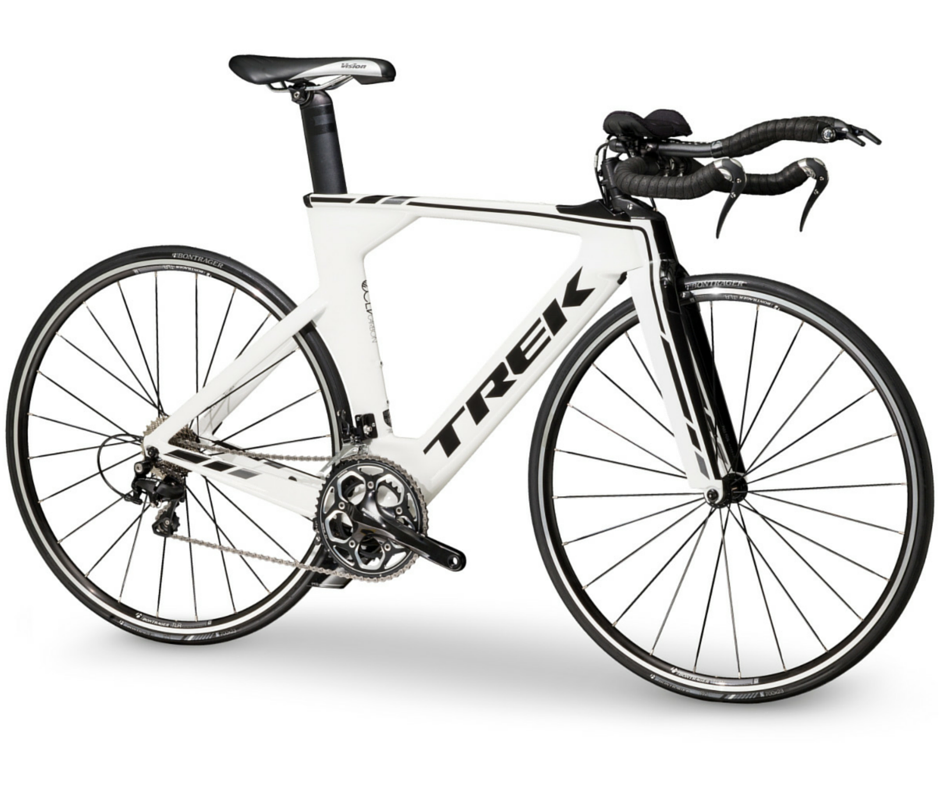 Frame: 500 Series OCLV Carbon, KVF (Kammtail Virtual Foil) tube shape, BB90 w/Speed Fin, DuoTrap compatible, SC Draft Box 2 & SC Speed Box compatible
Fork: SC full foil carbon, integrated brake
Sizes S, M, L, XL
Front Hub Bontrager alloy
Rear Hub Bontrager alloy
Rims Bontrager Tubeless Ready
Tires Bontrager R1 Hard-Case Lite, 700x23c
Shifters Shimano Dura-Ace, bar-end control, 11 speed
Front derailleur Shimano 105, braze-on
Rear derailleur Shimano 105
Crank Shimano RS500, 50/34 (compact)
Cassette Shimano 105, 11-28, 11 speed
Chain Shimano 105
Saddle Vision AeroMax Tri, chromoly rails
Seatpost Bontrager Speed Concept Race Lite, Alloy, +/-20mm offset
Handlebar Bontrager Race Bullhorn w/Race Lite clip-ons
Stem Bontrager Race Lite, 31.8mm, 7 degree
Headset Integrated, sealed bearings
Brakeset Bontrager Speed Limit integrated, Bontrager Race Lite aero levers
Grips Bontrager gel cork tape
Weather you are looking for the perfect gift, or just want to put a smile on your own face, look at the full line of Trek Bikes at Village Cycle Center. We can help you find the bike of your, or your loved ones, dreams today.