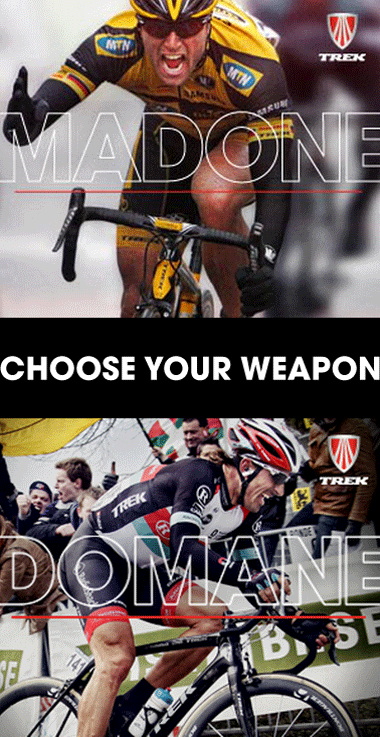 Tour winners. Olympians. World Champions. These are Treks race performance test pilots. Trek works together with them to create bikes that are fast, strong, and perfectly suited to conquer every challenge on every road.
Trek has two amazing road platforms to fulfill your concrete and cobblestone desires. The Trek Madone and Trek Domane, but which will you choose? Trek Madone, Trek Domane, or both?
Madone is race-bike royalty, with its legacy of Pro Peloton performance. Still the same incredible ride feel and hand-built quality, now with an all-new super-aero shape.
Domane with IsoSpeed has it all: Blistering speed. Incredible comfort and stability, even on the punishing pavé of Flanders and Roubaix. Welcome to a new class of race bike.
Trek Madone

Hand built in USA
The world's best carbon craftsmen meticulously hand build each frame from our proprietary OCLV Carbon in our US manufacturing facility.
Choose your fit
Choose either H1 or H2 Fit to get the perfect position on the bike, and customize the spec with Project One.
New, super-aero frame
Trek's revolutionary KVF tube shape and tip-to-tail integration, including integrated front and rear brakes, make Madone an aerodynamic game changer.
Pro Tour-tested tech 
Net Molding, StepJoint, BB90, E2, internal cable routing, Ride Tuned seatmast, DuoTrap. This bike is loaded with performance enhancements.
Trek Domane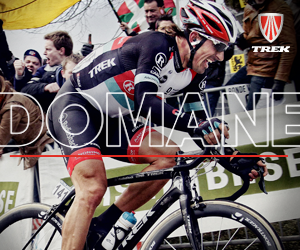 High performance
OCLV Carbon frame.Race-optimized cable routing. World Champion Fabian Cancellara's seal of race-ready approval. Performance doesn't get any higher than this.
Efficient
Domane makes the most of every pedal stroke. Our Power Transfer Construction stiffens the frame to transfer your pedaling power directly to the road. No waste, all win.
Stable
Balanced, race-stable geometry and integrated chain keeper give Domane extraordinary handling and flawless shifting on any road, under any load. This bike will not let you down.
Smooth
Long days and rough roads are no match for IsoSpeed technology. Our innovative decoupler doubles vertical compliance so you ride stronger, longer.
Update: 10/27/2013
Check out the now in stock 2014 Trek Madone and Domane 5.9!
2014 Trek Domane 5.9 C Dura-Ace
2014 Trek Madone 5.9 SRAM Red 22
Here are some pictures of both new rides to drool over…